Started with this project in August 2010.
Didn't know what to improve anymore on the Corsair Underground build.
It also weighed 34Kg, and lifting it 8 times a day when modding wasn't good for my back.
At the same time i also needed a new desk since the old one had lots of traces of use.
So there the idea came, why not an all-in-one solution ?
I couldn't even sleep that night 😉
Never worked before with Google sketchup, but i needed a drawing to create the desk.
9 hours later i had a nice 3D drawing with dimensions.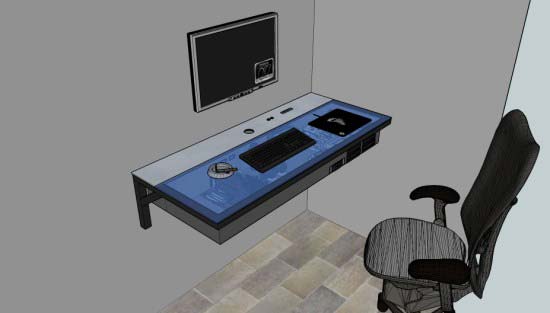 Been busy with it for 3 full weeks from 0900 till 0200 after that.
I'm still busy with this project, and need to find some free time to powder coat it. 🙂
See the L3p D3sk tab for more info and pics.
.
Sponsors:
.
Main Sponsor Hardware and Watercooling products

Main Sponsor Bitspower Fittings, pumptops & HDD blocks

Main Sponsor Watercooling Blocks

Sponsor Hardware

2 x Coolermaster Silent Pro Gold 700W

3x Konig 3-way LCD Wall Brackets

Bigfoot Networks™ Killer™ 2100 Gaming Network Card

Led Strips